Safe and savory

Presenting the Yongenton Silky Pork®
Introducing quality products to Japan
SC Foods is committed to bringing safe and great-tasting food to customers at an affordable price. In recent years, consumer needs have diversified, and expectation toward the food industry has risen. SC Foods, in collaboration with Sumitomo Cooperation, has been developing a variety of products abroad to bring premium-quality meat to the Japanese dining tables. The Yongenton Silky Pork®, introduced in fall 2010, is one such product. Here is the story behind the production of the new pork brand from the US. 

A crystallization of Japanese knowhow 
The Sangenton pork, commonly consumed in Japan, is generally a crossbreed of Large Yorkshire, Landrace, and Duroc, whether produced in Japan or abroad. SC Foods has also been distributing the Sangenton pork since its partnership with the US Smithfield Foods, Inc. in 1994. The Yongenton Silky Pork® crosses a fourth breed to the traditional three-breed mix, a Chester White, which is rarely found in Japan(see graph). By crossing the Chester White, a tender pork with cherry blossom-like color was created. It has a smooth taste with no boar taint. The marbling is its greatest feature with tender fat and delicate sweetness. What made possible this quality which surpasses that of some notable Japanese brands was the commitment from both the Japanese and US individuals involved in this endeavor for creating something new. SC Foods paid particular attention to the percentage of intramuscular fat. With the help of a Japanese research institute, we developed a special feed that balanced the amount of amino acid to realize the ideal degree and distribution of marbling. This unique type of meat with a tender texture and sweetness of the fat the Japanese favor was made possible by outstanding R&D and dedication.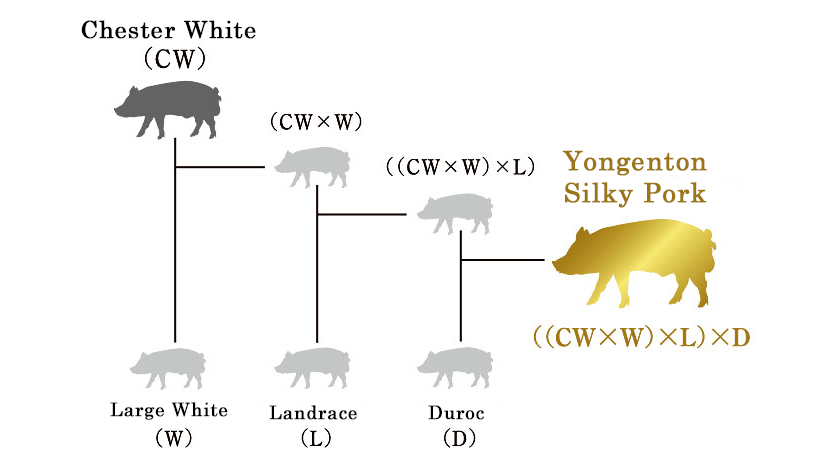 Premium pork created with thorough safety control
We pay close attention to safety control when handling our pork. We, therefore, created a separate pen for the Yongenton breed in Goldsboro, South Carolina. The pigs are raised in a clean environment overseen by a full-time veterinarian and dietician. We abide by Japanese standards for chemical residues in our feed and foreign object control. Pork processed by Smithfield Foods is known for its traceability through barcodes, which track the dates and locations the meat was processed. We opened a new distribution route within our logistics system to deliver chilled pork from our processing facility to the west coast with our trucks and to Japan using a climate-controlled container, without ever freezing them along the way. Thus, we are able to deliver safe, high-quality, and fresh meat to the tables of our Japanese consumers.
The notion that imported pork is cheap and low quality is now a thing of the past. The Yongenton Silky Pork® is a brand that can outshine premium Japanese brands.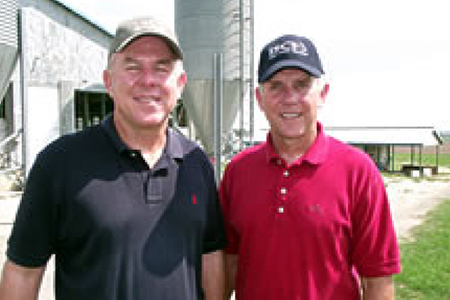 Brand Pork that introduces new value
Through SC Foods' marketing efforts, the Yongenton Silky Pork®, created by state-of-the-art technology, is now being distributed throughout Japan. SC Foods oversaw everything from feed development to production, processing, importing, and distribution. We understand our Japanese customers' taste more than anyone and have pursued the creation of pork that would satisfy their palates. Our designated farmers and packers, who implement strict hygiene and safety control, have extensive experience in the livestock industry. The combined efforts of the three made possible the creation of this new pork brand.
Our Silky Pork® has a cherry-blossom color and a marvelous sweetness. This juicy and scrumptious pork introduces new value to the dining tables.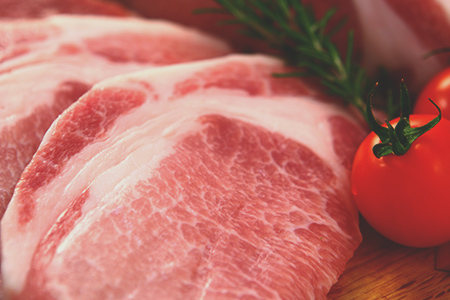 Sweet pork approved by "Dr. Umami"
The exquisite flavor of the Yongenton Silky Pork has been proved by the latest taste sensing technology. We analyzed the sweetness of the Silky Pork using the taste sensing system developed by Ryuichi Suzuki, CEO of AISSY Inc., also known as "Dr. Umami." When we compared pork belly meat, Silky Pork reigned at 1.88, above the Japanese Berkshire at 1.65 and Japanese Sangenton at 1.60.
*The numbers indicate the strength of flavor, ranging from 0.0 to 3.0.
As for sourness and bitterness, which are said to diminish the taste of pork, the Silky Pork marked 1.06 and 1.03 respectively, the Japanese Berkshire scored 1.09 and 1.16, and the Japanese Sangeton was 1.14 and 1.08. Silky Pork has scientifically been proven to have better flavor. Thus, we are able to proudly present the Yongenton Silky pork to the general public as superior tasting pork verified by the latest technology.